Toby Carvery has reopened its restaurants, having implemented new service systems. Employees have returned to work safely in the 133 Toby Carvery restaurants across the country that have reopened since  4 July.
Phil Urban, CEO of parent company Mitchell & Butlers says: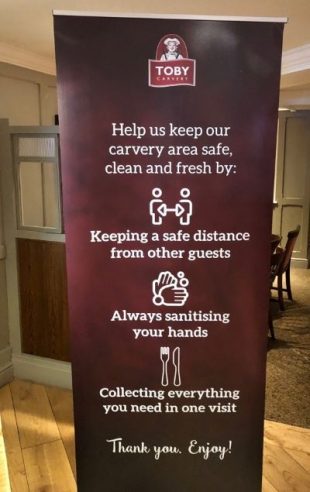 "We worked closely with the government and followed the guidance to develop plans for our restaurants, to ensure we are COVID-19 secure and to keep our staff and customers safe. We have had a thumbs up from Westminster, our primary authority for the plans.
There has been some media coverage welcoming Toby back but bemoaning the fact that 'help yourself' will not be allowed, and that guests won't be able to build their normal mountains of food. Our mantra will be 'don't be shy', and we will tell guests to ask for more if they want to!"
Phil set out the changes to their usual self-serve system to help keep people safe:
Customers are invited up to the carvery, with hand sanitiser provided
A first chef pick ups a plate and carves the meat, and a second chef serves the vegetables and the gravy
Chefs keep a safe working distance from guests, and sanitise their hands between each group of guests
All other food and drink is ordered and delivered to tables
Across all the pubs and restaurants Mitchell & Butlers own, they are implementing measures to ensure their sites remain safe. These include:
Limiting the number of guests allowed in at once
Spacing the tables at the required distance
Installing clear directional and spacing signage
Providing prominent instructions at the point of entry
Installing sanitising stations
The government has published COVID-19 secure guidance to support businesses to reopen, and keep workers and customers safe so they feel confident to return. To find out about measures your business needs to implement to reopen safely, there is an online tool, which will direct you to guidelines specific to your type of workplace.
If you run a business and would like to know which of the coronavirus support schemes you are eligible for, you can use the business support finder tool. It takes just minutes to complete and will help you easily find support for your business.
---
Subscribe to updates from this blog, or sign up for our email bulletin.