Phasing restaurant openings is enabling Wagamama to learn and adapt as it prepares to reopen all sites over the next few months.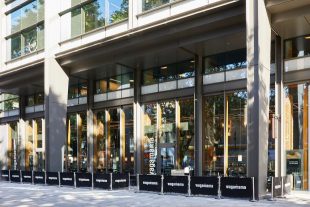 With over 150 Japanese inspired Asian-food restaurants across the country, Wagamama has been feeding the nation katsu curry and chilli ramen at its long benches for almost 30 years.
Closed since March, Wagamama restaurants began reopening with four 'trial' sites on Saturday 4 July.
"In an ideal world we would love to open all of our restaurants for eat-in dining straight away, but the safety and enjoyment of both our guests and our teams is our ultimate priority and we need to make sure this new approach works for everyone", explains Thomas Heier, People Director.
We reopened four trial sites in the first week, and that will be followed by a further 14 later this month. If the feedback from these 18 sites is positive, then the rest of our estate will open their doors in August and early September.
Social distancing and other safety measures do not spell the end of Wagamama's communal benches; instead the restaurants will be taking a pragmatic approach, combining enhanced hygiene measures for staff and customers with technological innovation.
To ensure the safety of our team as well as our customers, the reopening plan we developed after consulting with a primary health expert and using government guidance to ensure our business is COVID-19 secure was also reviewed by a working group made up of team members from within the business. Many staff will be returning having been furloughed for several months, and we want everyone to feel confident the measures we are putting in place are safe as well as practicable".
These measures include:
Greeting guests at the door, to help manage flow in and out of our restaurants and ensure socially distanced queuing
Introducing new moveable screens, enabling customer benches to be partitioned
Offering a reduced menu to support smaller kitchen teams
Placing menus on disposable placemats with napkins and cutlery brought to each table once customers are seated, to help eliminate additional touch points
Cleaning condiments after each use
Accepting cashless payments by phone, which also allows contact details of at least one member of the group to be collected as per government guidelines (this is stored temporarily for 3 weeks only)
Enhancing hygiene routines, with hand sanitiser stations installed for guests and a rigorous regime for staff
Installing signs and floor markings to encourage social distancing, including in bathrooms, at queuing points, and on floors indoors and outdoors, with staff on hand to help customers navigate the measures if needed
Placing Perspex screens outdoors where possible
Restricting capacity within each restaurant, as appropriate
Investigating a "book a bench" function, for customers to book prior to arriving at the restaurant
Specific to staff members, measures include:
Conducting telephone interviews with staff before they return to work, to ensure they do not fall into any risk categories
Asking staff to complete a pre-shift daily health declaration to confirm they are fit to work
Introducing new roles designated to ensuring measures and protocols are followed
The government has published COVID-19 secure guidance to support businesses to reopen, and keep workers and customers safe so they feel confident to return. To find out about measures your business needs to implement to reopen safely, there is an online tool, which will direct you to guidelines specific to your type of workplace.
If you run a business and would like to know which of the coronavirus support schemes you are eligible for, you can use the business support finder tool. It takes just minutes to complete and will help you easily find support for your business.
---
Subscribe to updates from this blog, or sign up for our email bulletin.