A couple who run a guesthouse on the Isle of Wight are reassuring customers by using the new NHS Test and Trace system.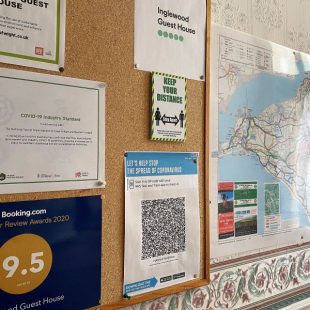 Justine and Jon Frankis, who run the 8-bedroom Inglewood Guesthouse, have adopted the new NHS COVID-19 app and QR code to boost confidence of visitors looking for a safe holiday break.
Justine said: "It was so easy to set up. We followed the instructions given at the time of launch to sign-up and produce an online poster with a unique QR code, which we then printed out
To encourage our guests to use the NHS app, we displayed the QR code on our noticeboard in the reception, just as you come into the guesthouse."
The NHS COVID-19 app supports the contact tracing programme, making it easy to warn people who may not know they have been in contact with someone who has since tested positive.
Inglewood Guesthouse also continues to maintain a COVID-secure environment. Justine added: "The wellbeing of our guests is of the utmost importance. We work to ensure they have a positive experience and have a comprehensive risk assessment in place. All guest rooms are fogged between use and all duvets and pillows removed from rooms and stored for 3 days before being reused.
Social distancing is in operation in the breakfast room. If that is not possible due to numbers, then we stagger the breakfast session by having two or sometimes three sittings. Tables and chairs are sanitised between sittings to ensure they are safe for other guests to use. We have also adopted table service-only and removed our buffet service to reduce the risk of spreading the virus. We have hand sanitisers located throughout the building."
The government has published COVID-19 secure guidance to support businesses to reopen, and keep workers and customers safe so they feel confident to return. To find out about measures your business needs to implement to reopen safely, there is an online tool, which will direct you to guidelines specific to your type of workplace.
If you run a business and would like to know which of the coronavirus support schemes you are eligible for, you can use the business support finder tool. It takes just minutes to complete and will help you easily find support for your business.
---
Subscribe to updates from this blog, or sign up for our email bulletin.