The Dog and Parrot Real Ale House, a community pub in Eastwood, Nottinghamshire, has put plans in place for reopening on 4 July after being closed for more than three months.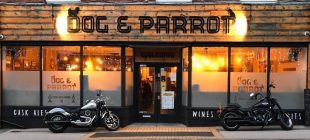 Kathryn Boam, who owns the medium-sized micro pub with husband David, talked us through the steps they have taken to follow government COVID-19 secure guidance and ensure staff and customers are safe when they open their doors.
"We are a community hub in the area and have quite a few older customers that use our pub to maintain their friendship group. We will be safeguarding them when we do open, making sure that social distancing guidelines are in place, and kept to.
Myself and my husband work full time and we have one person working 29 hours with five others working part-time as and when required.
When we do reopen, we will need more staff on duty to make sure all the measures are kept to correctly. This will be a higher cost to the business and will be factored into our business model.
We carried out a full risk assessment of the business and premises, putting safe distancing measures in line with government guidance."
Measures include:
Placing hand sanitiser stations at the front and back door, and in all toilets
Ensuring there is clear signage throughout the pub, and the instructions and rules are clear. Anyone not following the instructions, or acting in a manner that is not safe, will be asked to leave
Placing social distancing markers on the floor
Wiping down surfaces with anti-bacterial spray using disposable cloths
Providing hand sanitiser for staff
Implementing table service only, so no one will be walking up to the bar
Washing glassware after each use and jugs for the ales/ ciders/ lager where possible
Having a single person responsible for cleaning tables and monitoring the floor and only one person serving behind the bar
Checking all toilets regularly to ensure customers have hand soap and there are electric hand dryers in all toilets
Changing opening times to ensure the pub can be deep cleaned regularly
Kathryn added: "With the help of our staff, we carried out a risk assessment and came up with ideas and plans to ensure we can open safely and be COVID-19 secure. We have also been talking to other local landlords, working together to exchange ideas and ensure we are all joined up in our actions."
The government has published COVID-19 secure guidance to support businesses to reopen, and keep workers and customers safe so they feel confident to return. To find out about measures your business needs to implement to reopen safely, there is an online tool, which will direct you to guidelines specific to your type of workplace.
If you run a business and would like to know which of the coronavirus support schemes you are eligible for, you can use the business support finder tool. It takes just minutes to complete and will help you easily find support for your business.
---
Subscribe to updates from this blog, or sign up for our email bulletin.