Beer and cider producer Heineken UK owns around 2,500 pubs through its Star Pubs & Bars business.
As a result of the pandemic, all offices and sites were closed temporarily in line with government directives. The headquarters in Edinburgh remains closed while offices in London are now open following the easements of lockdown rules in England.
Speaking about the measures put in place to ensure the office environment remains COVID-secure James Crampton, Corporate Affairs Director for Heineken UK, said: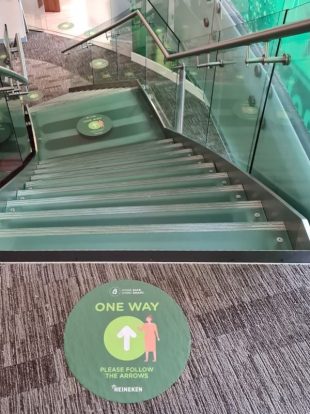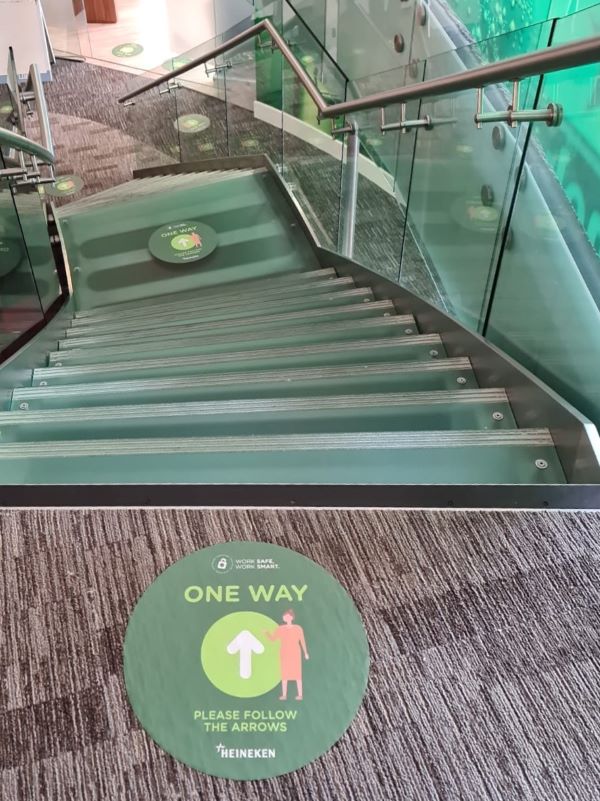 "Our priority has always been the health, safety, and wellbeing of customers and staff. We have beefed up health and safety measures in our offices to ensure colleagues feel confident to return to work, and at our pubs and bars so customers feel safe when they visit.
We reopened our London office in August, following government guidance. To help colleagues return to work at our office sites, we carried out COVID-19 risk assessments. We have also put in place social distancing measures and limited the capacity of colleagues allowed into the office. Our office building now accommodates only 50 percent of staff at any one time.
To ensure compliance, colleagues must book through our new Safe Desk app and are assigned a designated workspace. Only colleagues who have booked via the app are permitted on site."
Other measures put in place to encourage staff to return to work include:
Installing body temperature checking terminals
Making hand sanitisers, gloves, disinfectant spray, and wipes available throughout the office. Masks are also available from reception if needed
Enhancing daily cleaning procedures
Introducing one-way systems to ensure social distancing
Erecting signs encouraging rigorous handwashing
Limiting the use of communal and break out spaces.
Installing sneeze screens where social distancing is not possible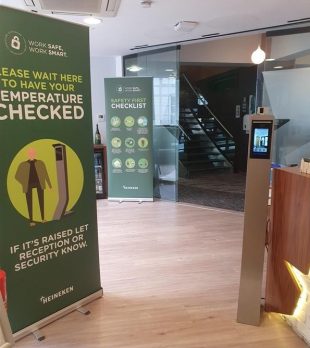 Heineken also has a large number of non-office based (field) colleagues and measures are in place to ensure their safety. This includes providing them with hand sanitisers and face masks should they need them, as well as ongoing advice on how to stay safe while working, based on government guidance.
For home workers, Heineken has expanded the list of home working kits available to them. Items available include headphones, a monitor, keyboard, mouse, printer, and office furniture, such as a chair or desk.
Speaking about the process put in place if a staff member develops coronavirus symptoms James said:
"They can book a test using The Employer Referral Portal. The portal is confidential and allows Heineken to refer production colleagues who are self-isolating either because they or member(s) of their household have COVID-19 symptoms, for testing."
We will use the portal to upload the name and contact details of colleagues who've agreed to be referred for a test. Whether based at a production site, in an office or in the field, any colleague who tests positive will not return to work and must strictly adhere to the period of self-isolation."
The government has published COVID-19 secure guidance to support businesses to reopen and keep workers and customers safe so they feel confident to return. To find out about measures your business needs to implement to reopen safely, there is an online tool, which will direct you to guidelines specific to your type of workplace.
If you run a business and would like to know which of the coronavirus support schemes you are eligible for, you can use the business support finder tool. It takes just minutes to complete and will help you easily find support for your business.
---
Subscribe to updates from this blog, or sign up for our email bulletin.