Bodylines Salon and Academy, based in Sittingbourne, Kent, has reopened with safer working measures in place to protect customers and its ten staff.
The business also teaches classes in hair and beauty techniques.
Owner Liza Smith reveals what steps have been taken to welcome back staff and customers safely: "Currently we have brought back eight members of staff on a part time basis. Two are still on furlough through the Coronavirus Job Retention Scheme.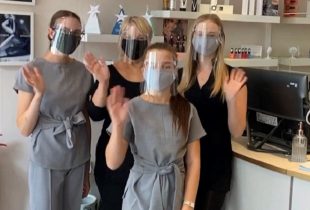 We carried out an extensive coronavirus risk assessment, referring to the HSE, industry and government Working safely during coronavirus (COVID-19) guidelines.
I discussed the risk assessment with our staff and extensive training has taken place on the new protocols and changes to face coverings and PPE.
We have designed, written up and trained our staff in the recommended technique of effective hand washing, and we have put up posters as visual cues for staff and clients."
Other safety steps taken include:
Making and offering clients a care pack on arrival containing a clean nail brush, paper hand towels, and a new mask
Asking customers to use alcohol gel and to fill out a coronavirus questionnaire about their and their household's health
Creating a full set of cleaning instructions for staff for all areas of the salon, including touch points in busy areas. Hand gel and cleaning equipment is in every room and area in the salon
Informing staff and clients they need to keep a safe distance in line with government guidelines
Providing staff with masks and visors for treatments that are face-to-face and in close proximity
Using hand-held face screens for eyebrows. The client will wear a mask and hold a visor over their nose and mouth creating a double barrier to their breathing zone
Carrying out face waxing and eyebrow shaping from behind, much the same as hairdressing
Carrying out facial treatments, with the therapist wearing a mask and a visor, and the client wearing a mask while moving around the salon, and only removing it when receiving the treatment
Adjusting the timings on facial treatments to last a maximum of 50 minutes
Carrying out lash treatments with the client wearing a mask and a hand-held visor throughout. The therapist will also wear a mask and visor
Making sure lash services last no longer than one hour
Investing in two air purifiers that change the air content five times an hour
Splitting the team, so a maximum of four members of staff are in the salon at any one time. They work on alternate days, which protects them and their families and protects the business from complete closure in the event of a track and trace situation
Accepting clients by appointment only. Bookings are spaced out to avoid multiple people at the entrance or at reception
Erecting signs outside and inside the salon to remind clients and staff about social distancing and correct hand washing measures, and ensuring staff can help customers navigate these measures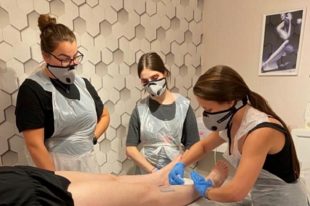 Liza adds: "We accessed the Business Rates Relief Scheme, furloughed all our staff and applied for and received the maximum Bounce Back Loan from our bank.
Without the furlough scheme, we would have had to lay off our team. The part time element starting next month is crucial to our survival considering the restrictions that we are opening under.
The Business Rates Relief Scheme helped us to pay our business overheads through April to June."
The government has published COVID-19 secure guidance to support businesses to reopen, and keep workers and customers safe so they feel confident to return. To find out about measures your business needs to implement to reopen safely, there is an online tool, which will direct you to guidelines specific to your type of workplace.
If you run a business and would like to know which of the coronavirus support schemes you are eligible for, you can use the business support finder tool. It takes just minutes to complete and will help you easily find support for your business.
---
Subscribe to updates from this blog, or sign up for our email bulletin.