Pub and hotel group Fuller, Smith & Turner PLC, better known as Fuller's, has acted fast to integrate COVID-secure practices and NHS Test and Trace requirements into its business operations.  The group oversees 215 managed pubs, 1,028 boutique bedrooms, and 177 tenanted inns.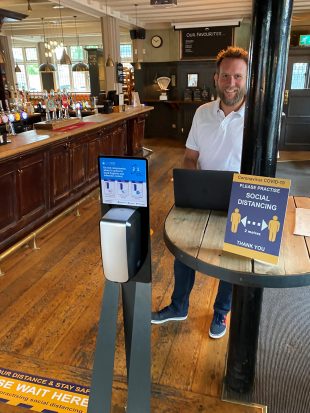 Lee Marshall, Safety Manager at Fuller's, explains why these measures are so important to the business.
"The journey for our 5,000 staff starts with a training programme and reviewing the COVID-19 risk assessment for their site. As well as aiding their own understanding, this also allows employees to explain the measures to customers.
All staff must complete a questionnaire before starting work which gives them a green light or, if they are feeling unwell, encourages them to stay at home, arrange a test through the GOV.UK portal and, if positive, alert NHS Test and Trace.
It also starts a process for their worksite on what to do should a staff member fall ill. This includes regular communication with the employee, highlighting the steps to self-isolate, encouraging cooperation with NHS Test and Trace. At their place of work, we identify any additional cleaning that might need to be undertaken.
Customers also play a part, and we have found they have been happy to share their details with us to support NHS Test and Trace. We have made it simple by offering registration through the Wi-Fi system using a QR code, or taking details through advanced bookings.
Fuller's prides itself on outstanding hospitality and making everyone feel welcome. By implementing these measures, our staff feel safe at work and our customers feel safe as they get back to enjoying our venues."
The government has published COVID-19 secure guidance to support businesses to reopen and keep workers and customers safe so they feel confident to return. To find out about measures your business needs to implement to reopen safely, there is an online tool, which will direct you to guidelines specific to your type of workplace.
If you run a business and would like to know which of the coronavirus support schemes you are eligible for, you can use the business support finder tool. It takes just minutes to complete and will help you easily find support for your business.