The King's Head in Aylesbury, a Chiltern Brewery pub, fully reopened its doors on Saturday 4 July with measures in place to keep customers and its 15 staff safe.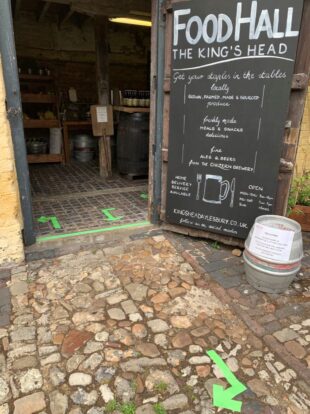 George Jenkinson, the pub's Managing Director talks us through what has been done, so that customers can have a drink safely:
"When it was announced that pubs must shut, we set about opening a foodhall to sell takeaway beer and food.
"It was opened within 48 hours and expanded quickly to provide a home delivery service, ready meals, takeaway tea and coffee and food, as well as barbecues.
Having spent 15 years building the business up, shutting down for an unknown period was not within my capability. We also wanted to be able to help all those in our neighbourhood who couldn't shop or weren't able to go out.
We were able to work closely with our pub suppliers, such as butchers, bakers, grocers and brewers, most of whom are very local and independent, and who were also able to continue operating.
We all work to the safer food, better business standards and having remained open as a foodhall. We have kept abreast of requirements, so when it came to reopening the pub, we had a head start."
New safer working measures introduced include: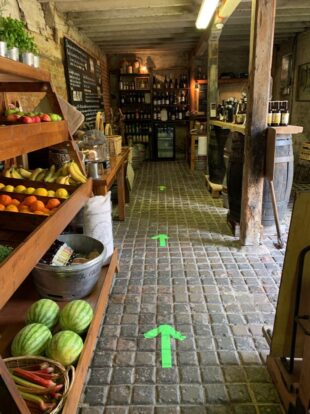 Handwashing, which was already ingrained, and is now even more frequent
Ensuring social distancing rules are applied and adhered to inside, as well as outside in the courtyard
Spacing out tables so they are social distanced in a new layout with fewer tables
Erecting signs where appropriate for customers as they approach the premises, as well as at the entrance door and in the foodhall
Working on a table service basis with table booking only, no walk-in customers
Creating a new one-way system
The government has published COVID-19 secure guidance to support businesses to reopen, and keep workers and customers safe so they feel confident to return. To find out about measures your business needs to implement to reopen safely, there is an online tool, which will direct you to guidelines specific to your type of workplace.
If you run a business and would like to know which of the coronavirus support schemes you are eligible for, you can use the business support finder tool. It takes just minutes to complete and will help you easily find support for your business.
---
Subscribe to updates from this blog, or sign up for our email bulletin.