Salon owner and hairdresser Melissa Timperley has brought her team of 12 back on a rota basis after reopening her salon in Manchester.
She has followed guidelines from government and advice from the National Hair and Beauty Federation (NHBF) to put new measures in place for when customers visit her salon.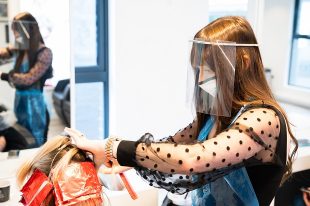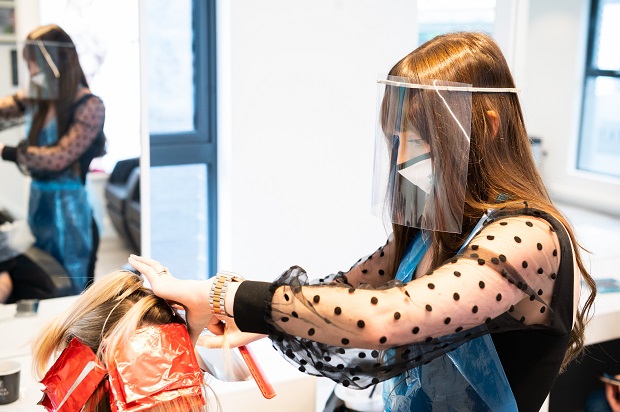 Here she explains the steps she has taken:
"As you would expect due to it being some time since we closed on 24 March, we now have a huge demand for our services, from both existing and prospective new clients.
We opened the salon again on 4 July and are confident we have everything in place to ensure staff and our clients are coming to a salon that is safe and hygienic in line with the government guidelines.
It's important for us to maintain social distancing rules while ensuring business continuity. The government guidelines and NHBF have provided excellent practical advice."
The salon's safety and hygiene measures include:
Face visor and new disposable aprons and gloves to be worn by the stylist for each client
Perspex barrier installed at reception
No touch hand sanitiser units throughout the salon
Social distancing procedures for styling stations
Styling stations, chairs and sink areas are to be disinfected after every appointment
Brushes, combs and scissors to be disinfected after every appointment – and clients will be shown that the equipment has been sanitised for them
Disposable towels will used for styling
Drinks provided in a disposable cup
No touch hand dryers are installed in the toilets
All staff have completed an online course on providing safe services in the salon
Staff checklist created for sanitising all areas of the salon to ensure this is done regularly and effectively
Salon ventilation – all windows will be open
All hairdressing kit to stay in the salon to ensure hygiene standards
No magazines allowed in reception
Social distancing in the staff and kitchen area introduced
Clients asked to wait outside and will be called in when the stylist is ready
Clients place their own coats on rail
Melissa added: "Our plan was originally developed by following what hairdressers in other countries were doing to reopen, but this was formed into a more cohesive plan when we received the government guidelines.
In addition to this we scheduled socially distanced small team training sessions in the salon close to the opening date so we could 'walk through' the processes we put in place, as well as provide clear messaging to clients to give them comfort that we are doing all we can to make their visit to us a safe, super-hygienic and happy one."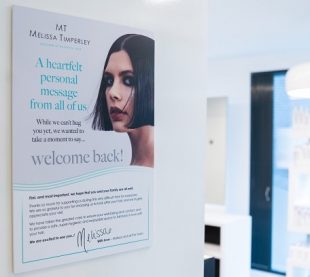 While the business was temporarily closed, Melissa accessed the government's Retail, Hospitality and Leisure Grant Fund and put staff on furlough under the Coronavirus Job Retention Scheme.
Melissa concluded: "Both schemes have been enormously helpful in terms of putting cash back into the business, and our own personal experience is that they have been implemented very efficiently and speedily."
The government has published COVID-19 secure guidance to support businesses to reopen, and keep workers and customers safe so they feel confident to return. To find out about measures your business needs to implement to reopen safely, there is an online tool, which will direct you to guidelines specific to your type of workplace.
If you run a business and would like to know which of the coronavirus support schemes you are eligible for, you can use the business support finder tool. It takes just minutes to complete and will help you easily find support for your business.
---
Subscribe to updates from this blog, or sign up for our email bulletin.