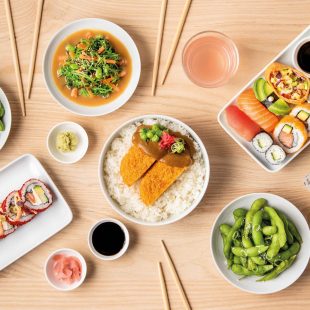 Japanese restaurant chain YO! (formally YO! Sushi), has repurposed its 'iconic' conveyor belts to deliver a safer dining experience for its customers and staff.
YO! customers previously chose dishes as they circulated on a conveyor belt. Now anyone eating in the restaurant will order food and drink on their phone, which will be delivered to customer tables on the conveyor belt.
Richard Hodgson, CEO of the business, said:
"Since our restaurants closed on 20 March, we have been working hard to make sure our customers still get to enjoy the YO! they know and love. Our priority is the safety of our team members and our guests, so we have introduced a number of measures to make our restaurants as safe as possible.
"A huge part of this is the repurposing of our iconic 'kaiten' belt to provide an innovative, contactless dining experience for the era of social distancing. We're looking forward to opening our doors again and welcoming back our customers."
YO!, which employs over 1,400 people across 100 UK sites, will initially open around a dozen restaurants, but plans to open more over time.
Other measures include:
restricting the number of guests in restaurants
managing queues outside and ensuring social distancing guidance is adhered to
separating queues for takeaway and those customers wanting to dine in
collecting takeaways from a specific collection point, one customer at a time
ordering all food and drink from a digital menu on a new website
providing hand sanitiser stations in restaurants for customers and staff
minimising queuing outside toilets, with digital screens displaying availability
installing foot pulls on doors to reduce the need for staff and customers to touch handles
installing signs and floor markings for social distancing, with staff available to help customers navigate these measures
checking in with staff regularly to ensure fitness to work
increasing cleaning and sanitising procedures at restaurants
Richard added:
"Over the past few months, we have worked hard to adapt our business in what will be a very different world when we reopen.
"We understand this is a challenging time for everyone and we are grateful to all our team members who are preparing to return to work for the reopening of our initial sites."
During lockdown the business accessed the Coronavirus Job Retention Scheme to furlough staff, which has enabled it to keep the majority of its team employed.
The government has published 
COVID-19 secure guidance
 to support businesses to reopen, and keep workers and customers safe so they feel confident to return. To find out about measures your business needs to implement to reopen safely, there is an 
online tool
, which will direct you to guidelines specific to your type of workplace.
If you run a business and would like to know which of the coronavirus support schemes you are eligible for, you can use the business support finder tool. It takes just minutes to complete and will help you easily find support for your business.
---
Subscribe to updates from this blog, or sign up for our email bulletin.