Homegrown Hotels runs The Pig hotels in the south of England and will have safer working measures in place at its seven sites when they open on 6 July.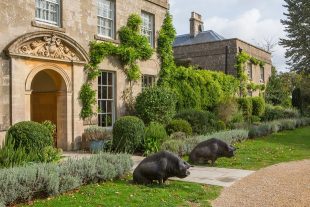 Tom Ross, Operations Director talks us through the steps the hotel group, which employs more than 650 people, has taken to ensure customers and staff are safe when doors reopen:
"We will be bringing staff back in stages, but the majority will return to work on a full-time or part-time basis.
"A small number will remain on furlough through the Coronavirus Job Retention Scheme due to it being impossible for them to work, such as therapists or staff who are considered vulnerable.
"We have introduced a raft of measures that address the issue of staff and guest safety. These are based on new operating procedures that tie into adapted risk assessments and are based around the government's five steps to working safely."
These measures include:
asking guests to check in online in advance (they will be greeted by staff before being shown directly to their room, on departure their bill will be emailed to them)
spacing out tables at the recommended social distance
training staff on the new safety measures before they return to work and providing further training before guests enter the building
making hand sanitiser available on each table in the restaurant and at various points in the hotel
creating one-way routes outdoors where necessary and all areas will be overseen by senior teams to direct and limit the number of people in any one part of the hotel
introducing a new operating procedure for table service and laying and clearing tables, underpinned by physical distancing
Tom added:
"Following the government and scientific guidance we have adapted these policies to suit our business. They revolve around physical distancing and sanitisation at every opportunity.
"We feel there is enough demand to be able to open safely and successfully."
The government has published COVID-19 secure guidance to support businesses to reopen, and keep workers and customers safe so they feel confident to return. To find out about measures your business needs to implement to reopen safely, there is an online tool, which will direct you to guidelines specific to your type of workplace.
If you run a business and would like to know which of the coronavirus support schemes you are eligible for, you can use the business support finder tool. It takes just minutes to complete and will help you easily find support for your business.
---
Subscribe to updates from this blog, or sign up for our email bulletin.