Lancashire-based independent fish and chip shop, Skippers of Euxton has accessed government financial support to help reopen safely.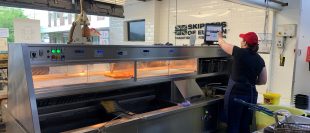 Owner Andrew Crook believes the new ways of working will protect customers and his eight staff, and help his business grow once distancing is relaxed:
"Running a business is much more than a job, it becomes your life, and your team and customers become friends, so the decision to close was a tough one.
Nobody wants to close their business, but it was necessary to protect our staff, customers and our reputation, and it allowed us to work with our industry friends to develop new and safer ways to operate.
Social distancing in a busy kitchen environment is very difficult, especially at peak times, so we performed a risk assessment to highlight where there could be potential issues. We needed to reduce the risk of transmission between team members, so we decided to work in teams rather than mixing teams up on a rota basis.
We have involved our team in every step of the risk assessment and provided training to help us all work safely. We also used forms created by our trade body, the National Federation of Fish Friers, for our employees to self-declare no one in their household have exhibited symptoms."
Some of the measures introduced include:
Changing work practices to pass back-to-back when needed
Offering a reduced menu and not allowing customers onto the premises
Implementing social distancing measures outside the shop
Accepting contactless payments only, where possible
Andrew added: "On a Friday night we generally experience high volumes of customers in a short period of time, causing customer queues and a lot of pressure on the team. We had 'click and collect' already, but we had to manually adjust collect times if we received too many orders at once. This would be unmanageable at busy times with the expected demand from customers, so we moved to an automated timeslot system, allowing us to control the flow of customers and spread trade throughout the evening.
The system also sends the orders straight to my electronic till system just before the customer is due to collect, taking even more pressure off the kitchen.
It has been so successful we think it is the future of the industry, as we love it, and more importantly so do our customers.
These two pieces of the jigsaw have definitely helped us reopen, and I think when social distancing is relaxed they will also help us grow our business."
"I have also accessed a Bounce Back Loan. The process was very easy, and it has helped me to purchase equipment for the new way of working, such as heated cabinets for keeping orders warm, ready for customers to collect.
We are also using it as a safety net in case we experience a downturn in trade, or if we have to cover a period of time when we may have to quarantine in the future."
The government has published COVID-19 secure guidance to support businesses to reopen and for workers to feel confident, safe and empowered to return to work.
If you run a business and would like to know which of the coronavirus support schemes you are eligible for, you can use the business support finder tool. It takes just minutes to complete and will help you easily find support for your business.
---
Subscribe to updates from this blog, or sign up for our email bulletin.