National retailer Marks & Spencer has welcomed customers back to its clothing and homeware departments with staff greeting customers at the door.
Andrew Walmsley, M&S's Retail Operations Director explains how the company is using its experience in food operations to reopen the rest of the business safely for customers and their staff.
"I've never been prouder to be part of the M&S team than over these past few months. Our store teams have been brilliant at implementing the necessary social distancing and hygiene measures to help customers shop our food, and our customers have been great at respecting each other and following the guidance.
We have brought these lessons and insights over to clothing and home - from the installation of Perspex screens at tills, to encouraging contactless payment, to managing the flow of customers in and out. We look forward to welcoming customers back to clothing and home."
The measures Marks & Spencer have introduced include:
Providing hand sanitiser for customers in store.
Installing signs and floor markings to remind customers to stay a safe distance apart from other shoppers, as per government guidelines.
Providing a 'greeter' at each store to explain the social distancing measures to customers, offer help and advice to shoppers, including visually impaired and disabled customers who may require additional assistance navigating the measures, and managing the flow customers in the stores.
Pausing services such as 'bra fit' but providing expert colleagues to offer customers advice.
Providing coffee-to-go with contactless collection while the cafes remain closed.
Installing Perspex screens at all tills and accepting the new contactless limit of £45.
Extending the refund policy to allow customers to try items on at home and return them to store if needed.
Continuing to reserve the first hour of trading from 8am-9am on Monday and Thursday for older and vulnerable customers, and the same on Tuesday and Friday for NHS, health and social care workers.
Offering customers access to the sunflower lanyard scheme, a discreet way for those with hidden disabilities to show they need additional support or a little more time.
Donating 10% of purchase prices of items in the Marks & Spencer 'rainbow sale' to NHS charities.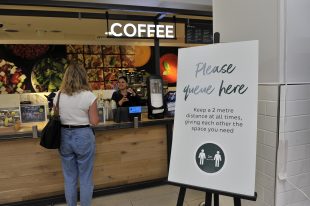 The government has published COVID-19 secure guidance to support businesses to reopen and for workers to feel confident, safe and empowered to return to work.
If you run a business and would like to know which of the coronavirus support schemes you are eligible for, you can use the business support finder tool. It takes just minutes to complete and will help you easily find support for your business.
Watch the videos to see how M&S is working to keep customers and staff safe
---
Subscribe to updates from this blog, or sign up for our email bulletin.