In March, Burger King took the difficult decision to temporarily close all 517 of its restaurants across the UK and Northern Ireland.
Now, COO Richard Dening-Smitherman talks us through the decision to start reopening their restaurants, beginning to bring some of their 3,200 members of staff back to work.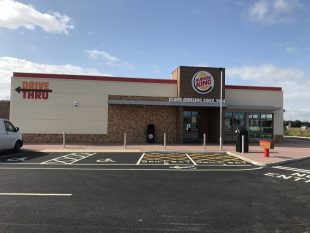 "As the situation around COVID-19 developed it became clear that we needed to adapt to a 'new normal'. We developed a plan that followed government guidance and advice, including social distancing measures, to safely re-open restaurants and begin bringing staff back to work.
Since taking the decision to close all our restaurants in March, we have worked closely with Burger King Global, UK suppliers, franchisees and partners to conduct detailed operational testing and increase safety procedures across restaurants.  Ensuring the safety of our staff, customers and partners is always our number one priority, so we are only starting to bring staff back to work when it is safe to do so.
A phased re-opening plan meant we opened four of our restaurants on the 16th April for delivery-only. Two weeks later we re-opened our first restaurant for customer Drive Thru.
For every restaurant we reopen, we closely monitor, test and learn from the experience, to make sure procedures are effective and working. Customer and staff safety are always our number one priority, so we are continuing to slowly open restaurants across the UK, only when we are certain it is safe to do so.
We have increased safety measures to re-open restaurants in the following ways:
Restaurants are open for no-contact Delivery and Drive Thru only
All employees thoroughly wash then sanitise their hands before they start, and at agreed intervals throughout their shift
Only 6-8 members of staff are permitted to work in the kitchen at a time to ensure social distancing measures are managed
New guidelines have been developed for restaurants on how to run delivery-only kitchens hygienically, whilst adhering to social distancing
Every restaurant has window posters with advice for delivery riders and we offer contactless delivery options
Every restaurant has a Coronavirus advice poster in its staff area which outlines additional advice on how to control the risk in their homes
Reduced menu, to support social distancing measures in the kitchen
Every Team member goes through a full course of re-training covering the new procedures, which includes a practising these in-restaurant to ensure they are completely confident with all the additional safety measures in place
We're now aiming to open one restaurant in every city by 31 May, and as of 18 May we will have re-opened 46 restaurants employing 1,000 staff on shift work basis. The remaining staff have been furloughed using the Job Retention Scheme until we reopen more restaurants."
The Government has published COVID-19 secure guidance to support businesses to reopen and for workers to feel confident, safe and empowered to return to work.
If you run a business and would like to know which of the coronavirus support schemes you are eligible for, you can use the business support finder tool. It takes just minutes to complete and will help you easily find support for your business.
---
Subscribe to updates from this blog, or sign up for our email bulletin.