CJ's Events Warwickshire, which runs outdoor markets across the county, has opened "scaled down" markets selling food only.
The family-run business, which also offers event management and stall hire services, plans to open markets for non-essential stalls, such as clothing, homeware and watches and repairs in early June, following the same principles and working in partnership with Warwick District Council.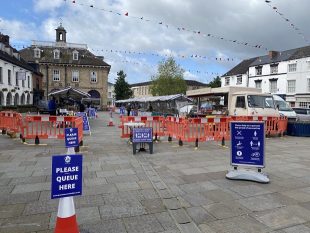 Jamie Walker, Director of Warwick-based CJ's Events, said:
"As a family business, we are really pleased we've been able to return with our weekly markets. Our priority has always been safety at the forefront of our plans - for all colleagues, market traders, visitors and the communities we serve.
Taking these tentative and gradual steps back to business has enabled us to ensure the survival of our business, and the many businesses which trade on our markets."
In late May the weekly markets in Warwick and Kenilworth resumed, with events currently limited to a maximum of ten stalls and 10 visitors allowed in the market area at any one time. All plans were agreed with Warwick District Council and advice given by the council's Environmental Health team.
Other measures include:
The market area is cordoned off
A queuing system to enter the market
All food is sold pre-packed
Card payments only
Ensuring social distancing is followed
Ensuring staff and traders wear face masks and gloves
A hand sanitising station on entry
Clear signage on entry and within the market area to remind customers of the measures in place
Markets are monitored by the local authority's CCTV room, which has direct contact with the market team on-site should there be any issues or non-compliance with social distancing
During lockdown, the business secured a Coronavirus Business Interruption Loan. Now they have been able to start getting back to business as usual, three members of staff have returned to work and the company hopes to increase this over time. It employs 25 people, who were all furloughed during lockdown.
Jamie added:
"With us having all our markets and events cancelled for at least a period of 3 months, it has had a huge financial strain on our business. Without the Government's support, we would have been unable to survive and would have had to close the business.
Our business hasn't been able to be altered to accommodate income - we're not a shop which can take online orders or deliver. All our work involves people visiting so we have had to wait until we're confident we can operate safely. That time has finally now come."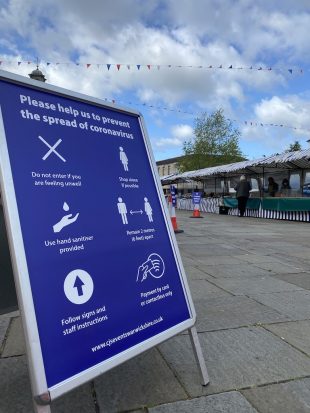 The government has published COVID-19 secure guidance to support businesses to reopen and for workers to feel confident, safe and empowered to return to work.
If you run a business and would like to know which of the coronavirus support schemes you are eligible for, you can use the business support finder tool. It takes just minutes to complete and will help you easily find support for your business.
---
Subscribe to updates from this blog, or sign up for our email bulletin.