McDonald's has slowly begun reopening some of its 1,334 restaurants across the UK with safer working measures in place after closing its whole estate in March, for the safety of employees and customers.
McDonald's undertook a closed test in a restaurant to develop modified procedures and changes to its operations. On 13 May it opened 15 restaurants for McDelivery only and on 20 May the business opened 39 Drive Thru lanes – the plan is to open all Drive Thrus in the beginning of June.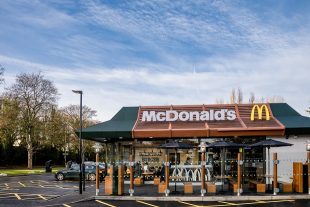 McDonald's UK & Ireland CEO Paul Pomroy, reveals the measures taken:
"Together with our franchisees we employ 125,000 people across the UK and their wellbeing, along with that of our customers, has been at the forefront of our thinking. It was one of the primary reasons why we took the decision to temporarily close all our restaurants across the UK and Ireland in March.
Since closing our doors, we have always been clear that for us to reopen we must meet three key criteria:
Protecting our people's wellbeing and creating the right environment for them to return to work.
Ensuring we have enough supply of produce.
Working in-step with government guidelines to help keep people safe.
We have used controlled operational tests – at a restaurant which was closed to the public - to develop a number of modified procedures and changes to our business operations to help keep our restaurant crew and customers safe; which our franchisees will also introduce in their restaurants as they reopen.
All employees who return to work will undergo additional training on these new procedures before they begin to work in the kitchens, with reinforced procedures on cleanliness and hygiene. We have also sought the views of our people and engaged with them to help inform our approach to reopening. Regular communication with them - from myself, from their franchisees and managers - has been key, we know people may have mixed emotions about returning to work – but we want everyone to understand that our restaurants will feel like very different places to work, understand the changes in place, and feel reassured."
McDonald's has taken the following steps:
Fewer staff on each shift to allow for social distancing.
Reducing the number of menu items on offer to customers, reducing volume in kitchens.
Reducing opening hours, from 11am to 10pm.
Contactless delivery procedures with couriers
A maximum order size of £25 for delivery and drive through, to relieve pressure on our restaurant teams.
Social distancing measures for all service partners will also be introduced, including Martin Brower who regularly carry out deliveries to restaurants, as well as McDelivery courier drivers. We will also carry out a risk assessment, with details of actions communicated to every restaurant to implement prior to reopening.
Perspex screens in key locations in the kitchen and service areas, which will allow staff to work in a socially distant way.
Increasing the amount of hand sanitiser available and enhancing guidance on hand washing.
Updating training on cleanliness and sanitisation and enhancing procedures for routine cleaning of restaurants, including how often these are conducted throughout a shift.
Each restaurant will undergo a health & safety risk assessment
Mr Pomroy added: "Before any restaurant reopens, franchisees and managers will conduct meetings with all members of their teams to discuss the reopening plans and share the new safety measures in place in restaurants to help them feel comfortable returning to work.
We remain committed to listening to our people and have always operated an open-door policy, and that is now more important than ever. We have reminded our people that if they have any concerns, they can contact their franchisee, manager or our People Services Helpdesk.
We understand everyone has been affected by this global crisis differently and also have different home circumstances. We are therefore encouraging employees to make the right decision for them and their families as to whether they return to work.
It's also been important we recognise our restaurants will be operating differently. We've been clear our kitchens will need to be slower, we will serve fewer customers than normal, and our people must work at a pace that is right as they adapt to new processes, procedures and ways of working."
The government has published COVID-19 secure guidance to support businesses to reopen and for workers to feel confident, safe and empowered to return to work.
If you run a business and would like to know which of the coronavirus support schemes you are eligible for, you can use the business support finder tool. It takes just minutes to complete and will help you easily find support for your business.
---
Subscribe to updates from this blog, or sign up for our email bulletin.