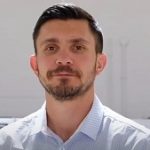 Marcus Poston
Facilities Manager
Clacton Leisure Centre
Measures are in place at Clacton Leisure Centre for their safe reopening.
Related content and links
About this blog [Archived]
The government is providing business support for those affected by coronavirus.
Coronavirus Business Bulletin
Sign up to the Coronavirus (COVID‑19) Businesses and Employers Bulletin and get the latest information sent straight to your inbox.
Find out more