Customer logging is very important to managers at the Isle of Wight Heritage Service and Record Office, who acted quickly to deliver new NHS Test and Trace systems.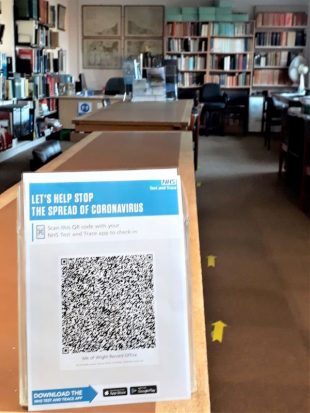 The service preserves historical documents about the Isle of Wight for public research. Its archive has material that spans the 12th to the 21st centuries and includes records of parish churches, estates, families, businesses, schools, and local government.
Richard Smout, Heritage Service Manager at Isle of Wight Council explains how the new NHS COVID-19 app and QR code has been useful for reassuring customers.
"We attract developers, researchers and students looking for heritage materials. Prior to the pilot of the app in the Isle of Wight, we used conventional methods to keep track of visitors. The new app and QR code, however, provide an easier way of keeping records of visitors who come in.
The QR code is displayed at the entrance to the office, where staff ask visitors to use their NHS app as they come in. It also provides an opportunity to discuss the app and its advantage to new arrivals. The process means it's now much easier to warn people who may not know they have been in contact with someone who has since tested positive for coronavirus."
While explaining efforts to make the QR code accessible, Richard said "We are working to ensure all visitors can access the QR code so they are able to scan-in at our venue."
The government has published  COVID-19 secure guidance to support businesses to reopen, and keep workers and customers safe so they feel confident to return. To find out about measures your business needs to implement to reopen safely there is an online tool which will direct you to guidelines specific to your type of workplace.
If you run a business and would like to know which of the coronavirus support schemes you are eligible for, you can use the business support finder tool. It takes just minutes to complete and will help you easily find support for your business.
---
Subscribe to updates from this blog, or sign up for our email bulletin.