Hairdresser Hare & Bone has been busy with customers desperate for a post-lockdown cut after reopening safely.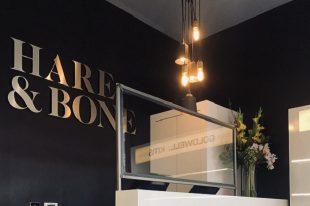 Owner Sam Burnett talks us through the measures he has put in place to ensure customers and his 25 staff at salons in London and Esher, Surrey are safe:
"We have brought back the full team, and have already grown the team by two staff members to deal with high demand.
We have carried out a COVID-19 risk assessment, consulted with trade bodies and other salon owners and shared results with the team.
We created a client journey including new practices to cover safety guidelines."
New measures Hare & Bone has put in place include:
Installing protective screens at reception desks and between workstations
Extending opening hours with the team split in half, working alternate days to allow social distancing where possible
Erecting signs in staff and work areas on health and safety, hand washing and social distancing to avoid congestion in busy areas
Providing hand sanitisers at the entrance and throughout the salon
Increasing cleaning and disinfecting of work areas and sanitising all equipment between client visits
Minimising the number of people clients come in to contact with
Allocating staff with set workstations and personal equipment
Operating by appointment only
Providing all staff with appropriate PPE
Allowing where necessary staff working side-by-side and limiting some zones in the salon to one team member at time
Removing magazines from the salons
Sanitising each workstation and client chair between use
Sam added: "To create this plan we walked through our client journey and updated it to ensure all guidelines were covered.
The salon space was assessed and measured to account for distancing and a practical number of people on the premises.
We theoretically compared different shift patterns and ways of operating to measure how we could run at the highest utilisation and capacity whilst maintaining safe practice."
The government has published COVID-19 secure guidance to support businesses to reopen, and keep workers and customers safe so they feel confident to return. To find out about measures your business needs to implement to reopen safely, there is an online tool, which will direct you to guidelines specific to your type of workplace.
If you run a business and would like to know which of the coronavirus support schemes you are eligible for, you can use the business support finder tool. It takes just minutes to complete and will help you easily find support for your business.
Watch the video to see how Hare & Bone is working to keep staff and customers safe
---
Subscribe to updates from this blog, or sign up for our email bulletin.