Pubs across England owned by UK company Mitchells & Butlers are gearing up to open their doors safely, with an order-at-the-table app and a seated-only approach.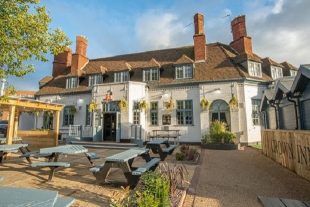 With over 1,600 businesses, it is one of the largest operators of restaurants, pubs and bars in the UK. It is responsible for chains including Ember Inns, Castle Pubs, High Street/Oak Tree Pubs, Vintage Inns, Premium Country Pubs, Sizzling Pubs, Orchid Pubs, Nicholson's, Browns, and Miller & Carter Steakhouses.
Phil Urban, CEO at Mitchells and Butlers, said:  "We want to protect jobs and safeguard the future of the business, so we are delighted to reopen. But it is important we do so safely and professionally, as our customers would expect.
We worked closely with the government to develop hospitality sector plans and we believe our detailed plans for each brand means we surpass the five-step government guidance."
Detailed plans include:
Providing a detailed operations manual for each brand
Taking management through a step-by-step approach to opening which will ensure businesses run safely for staff and customers
Providing staff training material online
Interviewing team members prior to returning to work and pre-shift checks to ensure no-one has coronavirus symptoms
Reducing customer capacity to ensure social distancing measures can be adhered to
Placing tables at a safe distance
Placing directional and spacing signs at pubs and restaurants – and making staff available to help any customers with disabilities or visual impairments navigate the measures
Placing instructions at entrances for customers and sanitising stations within venues
Introducing disposable menus across most brands
Introducing table service for customers to order food and drink at some brands
Ensuring outside areas, where available, follow similar social distancing rules as inside
Taking cashless payments, wherever possible
Ensuring clear and clean tables, free of condiments and cutlery
Introducing heightened cleaning routines throughout businesses
Placing hosts at entrances to control the flow of customers and ensure all guests understand the protocols
Introducing a dedicated helpline for members of staff to raise concerns or questions
Asking staff to change into work clothes when they arrive at the business
Allocating kitchen teams into cohorts, wherever possible, so the same people always work together
Marking kitchens for correct spacing and where the required spacing is difficult, setting up workstations back-to-back or side-by-side
Making sure there are heightened cleaning regimes for all toilet areas and promotion of good hand washing, although sanitisation stations will be placed outside the toilet areas for customers to use before returning to the restaurant or bar
Phil added: "We are very mindful that we are in hospitality, and so all measures need to be delivered whilst still creating an inviting atmosphere.
We envisage having a few areas where social distancing is difficult to maintain and will make sure other measures are in place as needed. We are really looking forward to welcoming our customers back to our pubs and restaurants."
The company, which employs over 40,000 people, has accessed the Job Retention Scheme, the Coronavirus Business Interruption Loans Scheme and Business Rates Relief.
He concluded: "All schemes have been welcome and the Job Retention Scheme is the only reason we have been able to protect all the jobs we have in the business, although we have elected to top up salaries where applicable.
And the Business Rates Relief has reduced the deficit we have been operating with and has been essential in helping the business survive this prolonged period of closure."
The government has published COVID-19 secure guidance to support businesses to reopen, and keep workers and customers safe so they feel confident to return. To find out about measures your business needs to implement to reopen safely, there is an online tool, which will direct you to guidelines specific to your type of workplace.
If you run a business and would like to know which of the coronavirus support schemes you are eligible for, you can use the business support finder tool. It takes just minutes to complete and will help you easily find support for your business.
---
Subscribe to updates from this blog, or sign up for our email bulletin.