A London-based tailor has safely opened its doors again thanks to a pre-book only system, and an information film explaining changes to clients before they visit the shop.
Kathryn Sargent, whose business premises in Mayfair employs five people, has also reduced the number of staff working at any one time, encouraging homeworking where possible.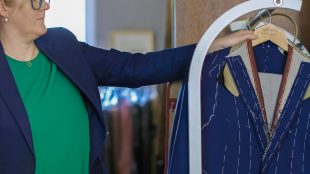 Kathryn, London's only female Master Tailor, said:
"I wanted to get the business moving again and provide our clients with a safe environment to visit for appointments and fittings. The government guidance has been very clear which has helped me do this.
The best way to reopen was using pre-booked appointments for customers and homeworking for staff, to reduce the number of people in the atelier at any one time, so we're able to maintain social distancing.
Some of our work, such as fittings, is impossible to do from home, but various administration tasks can be managed from home and our coat maker works from home when we have garments to make."
Measures also include:
Regular cleaning of all surfaces and touch points
Placing hand sanitisers around the premises
Asking staff and clients to wash their hands when they arrive
Removing all reading material normally provided to customers while they wait
Providing tissues for clients
Giving clear guidance to clients before their appointment on the measures put in place
Staff wearing visors during fittings
Providing gloves to touch cloth samples and garments
Providing a quarantine rail for all garments pre and post-fitting
Allocating pick-up and drop-off collection points for all deliveries entering or leaving the premises
Providing face coverings for staff travelling to and from work
Kathryn also explained she carried out a deep clean of the premises before reopening. She also stressed the importance of consulting her team about the reopening plan and keeping in touch with them weekly while they were on furlough, through phone calls and virtual team meetings.
Her team is also offering visits to disabled clientele, with usual social distancing rules and measures observed.
During lockdown she accessed the Coronavirus Job Retention Scheme, the Business Rates Relief Scheme and a Retail and Hospitality Grant. She is also in the process of applying for a Bounce Back Loan to help support the business in the early weeks of being open again.
Kathryn added:
"The government schemes we have accessed so far have helped tremendously with cash flow.
The Bounce Back Loan will also help as even though we are open, a significant number of our clients live overseas, and they are currently unable to travel to London."
Watch Kathryn's video on the measures she has taken.
The government has published COVID-19 secure guidance to support businesses to reopen, and keep workers and customers safe so they feel confident to return. To find out about measures your business needs to implement to reopen safely, there is an online tool, which will direct you to guidelines specific to your type of workplace.
If you run a business and would like to know which of the coronavirus support schemes you are eligible for, you can use the business support finder tool. It takes just minutes to complete and will help you easily find support for your business.
---
Subscribe to updates from this blog, or sign up for our email bulletin.