A construction company which restores some of the UK's architectural treasures has been able to stay in business through the coronavirus pandemic, by accessing government support through Santander.
London-based Stone Edge Conservation Ltd, which has a £5m annual turnover restoring and conserving historic buildings and monuments, has had a government-backed loan approved by the bank, enabling it to futureproof the business and their position as a sector frontrunner.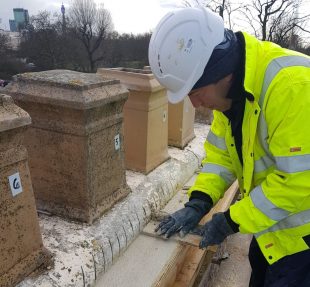 The UK government's Coronavirus Business Interruption Loan Scheme's (CBILS) objective is to help the country's businesses weather the coronavirus outbreak and its profound impact on business interruption.
Kevin Marett, Director at Stone Edge Conservation Ltd, said:
"As the Covid-19 pandemic took hold, it soon became apparent that this was going to have a severe impact on our ability to continue trading as normal.
As our income is based upon the production we undertake on site, it was clear that within a short period our overheads would put a serious strain on the company's finances and would have potentially led to redundancies.
This loan will help us pay our suppliers and also support the business for the first couple of months of trading once we are able to return to some semblance of normality."
Directors of the company, whose work includes churches, cathedrals, castles, hotels and other prominent stone and brick-fronted buildings in London and the South East, also plan to apply for other government-led support. In particular, the Job Retention Scheme to help them pay up 80% of salaries while staff are furloughed, and they are eligible for VAT and self-assessment payment deferral.
Robert Butler, Director at Stone Edge Conservation Ltd continued: "Everyone at the company has worked hard for the past eight years to make Stone Edge Conservation a forerunner in our specialist area of the construction industry.
However, without these extensive Government measures, we are sure that the impact to our business would have been significantly worse and taken a long time to recover from."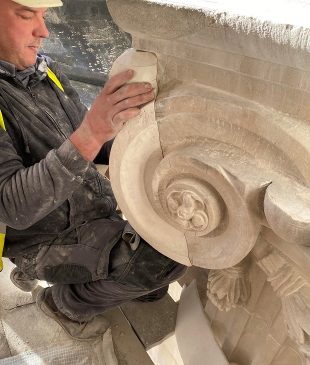 Tim Hinton is Head, Corporate & Commercial Banking at Santander, one of 48 lenders accredited to provide CBILS facilities to deliver loans to struggling firms like Stone Edge Conservation as quickly as possible. Their first loans under the CBILS completed in early April and they are continuing to work through other requests.
He said: "Combating the fallout from coronavirus is our overriding priority - and rightly so. Businesses need to be protected financially and at Santander UK, we are working at pace to ensure we can deliver this scheme to help UK businesses when they need us most.
Every business is different, and every business is being impacted differently. We are focused on understanding the specific impact on our customers and offering them appropriate support."
If you run a business and would like to know which of the coronavirus support schemes you are eligible for, you can use the business support finder tool. It takes just minutes to complete and will help you easily find support for your business.
---
Subscribe to updates from this blog, or sign up for our email bulletin.