National Grid Electricity System Operator (ESO) is responsible for Great Britain's electricity supply.
Employing 670 people, it has a vital role to make sure electricity gets to where it's needed, when it's needed, so control centre staff and some support staff have continued to work throughout the pandemic.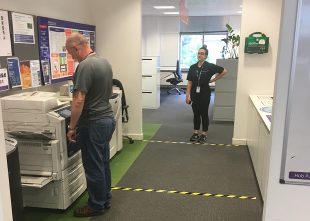 Business Continuity Manager, Cathy Fraser, explains what National Grid ESO has been doing to keep workers safe:
"We have around 150 staff who are continuing to access the office, together with other support staff. Shift work is normal and we will continue this practice.
We have increased cleaning of all areas and all main doors are open to reduce contact. We are also providing wipes and hand sanitiser and have posted reminder signs for hand washing and to point out one-way systems.
Screens have been erected between operational desks to ensure distancing and tape has been placed on the floors as a visual reminder for staff to keep their distance.
Staff recognise that social distancing means everyday tasks, such as accessing secure buildings will take longer. The gym, showers and restaurant have also been closed.
The next steps will be to remove chairs from and revise the occupancy of meeting rooms, as well as reducing desk capacity to allow for 2m distancing between colleagues.
We formed this plan after speaking with our staff and identifying key areas for communal activities. We have also been involved in best practice sharing across the electricity industry and wider company with regular calls and ideas being shared in forums.
We have closely followed government guidance and information that has come from liaising with the Department for Business, Energy and Industrial Strategy."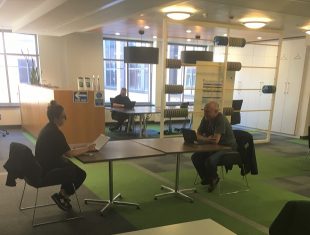 The government has published COVID-19 secure guidance to support businesses to reopen and for workers to feel confident, safe and empowered to return to work.
If you run a business and would like to know which of the coronavirus support schemes you are eligible for, you can use the business support finder tool. It takes just minutes to complete and will help you easily find support for your business.
---
Subscribe to updates from this blog, or sign up for our email bulletin.