Uniper is an international energy company with around 11,000 employees, and operations in 40 countries.
In the UK, Uniper operates a flexible generation portfolio of seven power stations and a gas storage facility. A broad range of commercial activities are offered through the Engineering Services division, while the Uniper Engineering Academy delivers high-quality technical training and government-accredited apprenticeship programmes for the utility, manufacturing and heavy industry sectors
Uniper employs around 1,000 people at 11 locations across the UK and has maintained its usual operations during lockdown, putting safety measures in place for those unable to work from home.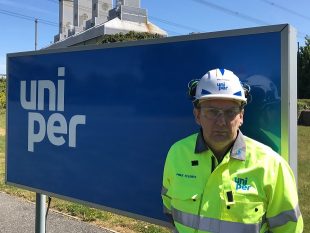 Michael Felgate, Plant Manager at Uniper's Connah's Quay Power Station in north Wales explains the steps it has taken:
"We have had to bring employees into work to operate and maintain our plants, and where needed we have also carried out seasonal outage activities, where we carry out maintenance at the plant.
All employees that cannot work from home are now back at work and those who can work at home will continue to do so for the foreseeable future.
To make our employees feel safe and comfortable at work we have put several measures in place:
All new visitors to sites have to complete and sign a coronavirus questionnaire.
We have installed hand sanitising units in all areas that experience a higher footfall and all push taps in bathrooms have been replaced by free-flowing taps.
We have ensured security employees are able to carry out their duties safely by fitting glass screens and we have fitted a Perspex screen to the office that issues permits required to operate on the site.
All meeting rooms and office spaces are set up for 2 metre social distancing.
Where it is not possible to keep the 2 metre distance, we risk assess the task and if it still needs to be done and we cannot alter the arrangements to allow 2 metres, then employees wear additional PPE to protect them.
We used information in the UK and around our European business to develop coronavirus specific actions on top of our established pandemic plans, which have been in place for more than 10 years at all our sites.
The safety of our employees has always been our top priority, and this approach now puts their health, as well as their safety, firmly front of mind whilst we continue to operate."
The government has published COVID-19 secure guidance to support businesses to reopen and for workers to feel confident, safe and empowered to return to work.
If you run a business and would like to know which of the coronavirus support schemes you are eligible for, you can use the business support finder tool. It takes just minutes to complete and will help you easily find support for your business.
---
Subscribe to updates from this blog, or sign up for our email bulletin.