B&Q initially closed all its stores at the start of lockdown. Now, after a trial of operating under strict safety and social distancing measures at 14 of its stores, it has reopened all its UK shops using the same measures.
Graham Bell, CEO of B&Q, explains how they were able to reopen: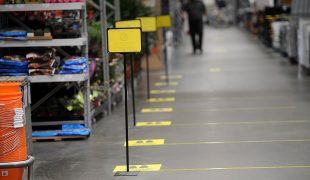 "We employ 16,221 (Full Time Equivalent) colleagues across our head office and 297 stores. We also have 20 distribution centres and logistics hubs in the UK and Republic of Ireland, which are operated in conjunction with our third-party logistics partners.
Following the Prime Minister's statement on Monday 23 March, when we learnt that 'home and hardware' were classified as essential retail, we worked hard to adapt our business to meet these obligations while keeping our colleagues safe and continuing to meet our customers' needs. That same week, we initially closed our stores before offering new contact-free collection services in our car parks for orders placed on diy.com. Our stores remained closed to customers for browsing and purchasing whilst we worked out how we could operate our stores and keep colleagues and customers safe.
This initially meant we needed fewer colleagues and approximately half of our staff went on furlough, through the Coronavirus Job Retention Scheme. We have also used the Business Rates Relief and VAT deferral schemes.
Now that our stores have reopened, albeit with a reduced range of services, we're working through our requirements to get the balance right and ensure colleagues feel confident to come to work. We now have 10-20% of colleagues still on furlough, including those who are more vulnerable.
The safety of our customers, colleagues and communities is our number one priority, and this has been paramount to our planning.
As part of the preparations for reopening, stores have had Perspex screens installed at checkouts; gloves, masks and visors have been made available for colleagues who choose to wear them; hand sanitiser is available at the front of the store, at all checkouts and next to vending machines; and disinfectant and wipes are available at key locations.
We're strictly limiting the number of customers in store at any one time, considering store size and layout, and so customers are typically queueing before entering stores. All stores have a designated queuing area outside and these have two metre markers to help remind everyone to respect each other's personal space. We also have two metre floor markers throughout the store and currently we're only accepting card and contactless payments.
Throughout, we have urged customers to follow the Government's social distancing guidelines and to shop responsibly for only what is necessary."
The Government has published COVID-19 secure guidance to support businesses to reopen and for workers to feel confident, safe and empowered to return to work.
If you run a business and would like to know which of the coronavirus support schemes you are eligible for, you can use the business support finder tool. It takes just minutes to complete and will help you easily find support for your business.
Watch the video from B&Q below to see how they're keeping colleagues and customers safe
Video Transcript
We're opening our stores to help customers repair and maintain their houses and gardens while staying at home.
We'll be offering a range of items you can take away on the day, but it's important you shop safely.
Here's how we're keeping colleagues and customers safe.
Sanitiser stations ensure our trolleys are good to go.
As well as helping you queue safely by keeping two metres apart.
And we've all been busy making sure that strict social distancing measures are in place.
These navigational markings on the floor,  help guide you through the store safely.
Unfortunately, our timber cutting, paint mixing and design appointments are temporarily unavailable.
Perspex screens at our checkouts help keep everyone safe. As well as taking only card payments.
There will be someone in store to remind everyone to stay safe and follow these guidelines.
Thanks for listening and remember. Together, we can do it.
---
Subscribe to updates from this blog, or sign up for our email bulletin.