After closing all its restaurants at the end of March, KFC has started to reopen some of its kitchens to offer a delivery service with safer working measures in place.
Paula MacKenzie, Managing Director of KFC UK & Ireland explains the steps they have taken to ensure staff are confident they can return to work safely.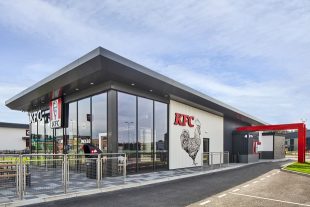 "Coronavirus has presented challenges, which businesses, including KFC, never expected to face.
In late March we made the difficult decision to close all our restaurants in the UK. We did this in the best interests of our people and our customers. Like everyone else, we were initially focused solely on protecting our people and helping to slow the spread of the virus, but we also felt that we had - and continue to have - an important part to play in keeping the nation fed and maintaining morale.
That's why we immediately started to work on a plan for getting back to cooking for the communities we serve. We carefully consulted the government's guidelines, and spoke with our people and franchisees, to develop a plan on how we could operate our kitchens whilst respecting social distancing rules. After 3 weeks without a single piece of KFC chicken sold, we began trialling delivery at a small number of restaurants.
Health and safety have always been a priority for us at KFC, and that is why we introduced a wide range of operational social distancing measures to minimise risks to our people, delivery drivers and customers.
We've reduced the number of team members on each shift, provided coronavirus training for all our teams and introduced contactless food hand-off procedures, as well as increasing the frequency of handwashing and surface sanitising requirements.
Central to our approach has been following the government's guidance. In these challenging circumstances, we are aware this can change very quickly, as and when the situation does, which is why we are taking a gradual approach so that we can adapt to best practice and reflect the most up-to-date information.
Since our initial re-opening, we have been looking at how we can expand our efforts to provide people with their favourite foods and help restart the economy as well as doing our part by feeding frontline NHS workers for free from the first restaurants which re-opened.
At each step of the way, we want to guarantee that our plans work in practice as well as on paper, which is why we've been trialling new procedures, such as opening drive-thrus, before rolling them out. As lockdown measures lift and the economy gets going, this measured approach, which puts the wellbeing of staff and customers first, will remain at the core of our plans."
The government has published COVID-19 secure guidance to support businesses to reopen and for workers to feel confident, safe and empowered to return to work.
---
Subscribe to updates from this blog, or sign up for our email bulletin.