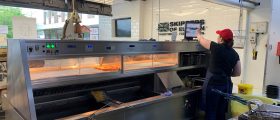 Skippers of Euxton: New ways of working sees fish and chip shop flourish
Owner Andrew Crook tells us how they have implemented new ways of working to protect customers and staff.
Copy and paste this URL into your WordPress site to embed
Copy and paste this code into your site to embed
Related content and links
About this blog [Archived]
The government is providing business support for those affected by coronavirus.
Coronavirus Business Bulletin
Sign up to the Coronavirus (COVID‑19) Businesses and Employers Bulletin and get the latest information sent straight to your inbox.
Find out more